Recombinant Place / Cloaked Mirror Body
Architectural installation. 10m x 4.5m x 1.25m (h). Glass fiber sandwich with Vinylester over a Divinycell core. 2002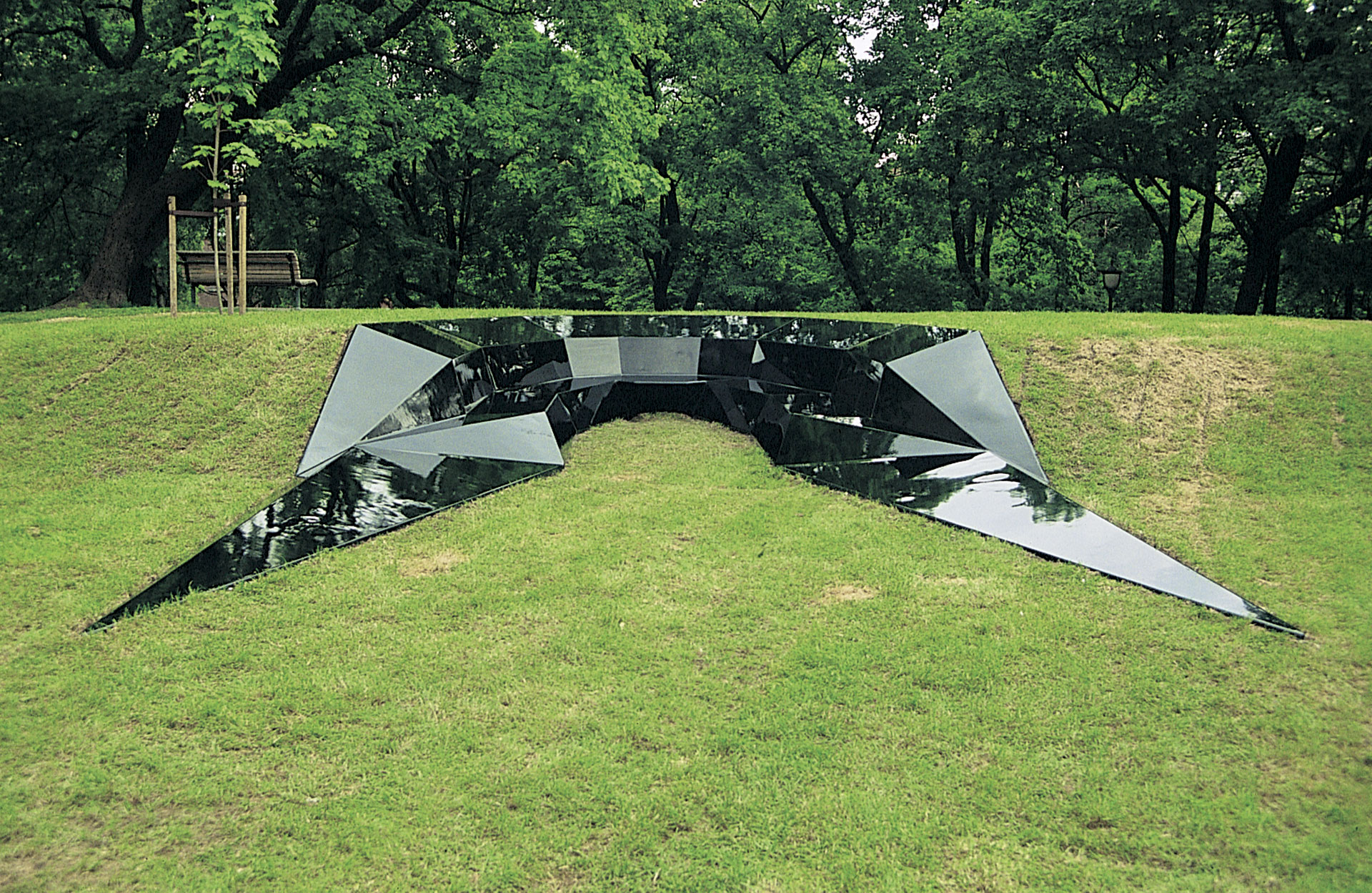 Permanent public work at the School of Architecture (AHO) in Oslo, and the river park of Akerselva (The Aker's river)

"Recombinant Place: Cloaked Mirror Body is a bench derivative of a u-shaped amphi theatre. The piece was commissioned by the Norwegian Fund for Art in Public Buildings. The bench is sunk down in the grass hill at the intersection between the public parkland along the Akerselva River and the park landscape that forms an integral part of the new building for The School of Architecture in the center of Oslo. In contrast to many publicly commissioned works, the piece has an inclusive and engaging element that invites to physical usage. The intension is that the bench will function as an assembly place for the school's users, employees and the public that passes by on the walkways along the Akerselva during the day or at night. Executed in composite glass fiber sandwich with a deep glossy black tone, the bench has an extreme graphical form.

The shape has references to both minimal aesthetics and through its exaggerated and almost caricatured appearance, it furthermore references to science fiction and popular culture inspired by utopian notions. The strict appearance, in the line of traditional geometrical abstraction is undermined by the bench's democratic and social character. It is incorporated into the site on the premise of the landscape and social dynamics. The work comes out of Åsdam's extensive work with the relations between subjectivity, social dynamics and place utilizing video, sound, photography, and architecture."

-Text by project curator Per Gunnar Tverrbakk.

The work was placed almost on the dividing line between the property of the School of Architecture and the surrounding public parkland used daily by commuters, homeless, children and parents, people out walking or hanging out, students, youth, families and more, -day and night. The work was buildt on the condition that there would be no fence between the two areas as that would destroy the rationale for the piece. Physically, a fence would have to cut through or touch the edge of the "sculpture". In this way it underlines the original intentions of the design of the School, which also sought to break down or negotiate the division between the school area and the public parkland/throughfare.

The public accessability of the work also means that it is open to usage that inscribes it into the city's own formal and social conventions; grafitti, scratchitti etc is already part of the piece, and the impossibly shiny black surfaces were already from the start being marked and incorporated into the city's own layering and ornamentation. A kind of symbiosis exsists that both benefits and limits the piece, and might eventually shorten its lifespan. This was also thought into the piece form the beginning, but the social character of the piece has also meant that it has been remarkably well kept by its users.